ARCHITECTS, CONTRACTORS. TRANSLATE YOUR ARCHITECTURAL PLANS INTO BEAUTIFUL WATERCOLOR PAINTINGS FOR POTENTIAL BUYERS

This slide show gallery represents a few original watercolor and pen and ink interpretations of both built and unbuilt works commissioned by architects and/or contractors. Given only computer-rendered architectural plans, Janet recreated the plans into pen and ink renderings or watercolor paintings with client specified color combinations and Janet's landscape designs so their potential buyers could visualize the completed home. The artwork could then be framed and presented as a closing gift to a client.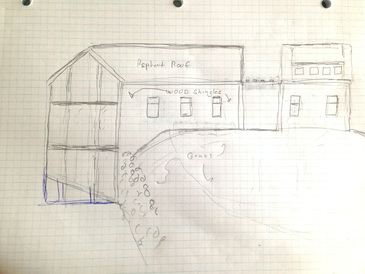 As another example of what is possible, the image to the left was a very rough sketch given to Janet by the contractor to create an architectural illustration of a house to be marketed that could be built on a lot on a hill overlooking the water. Below is Janet's finished artwork which was ready for marketing. It could be framed and displayed on the wall, reproduced in brochures, placed in MLS and used for presentations to potential customers. In addition, in contrast to computer generated art, the original watercolor could be given to the contractor's customer as a housewarming gift.

---