THE PERFECT BRIDE'S GIFT/WEDDING GIFT: PAINTINGS BY JANET SCHULZ
Say "thank you" with a beautiful watercolor house portrait; a uniquely personal gift to the bride's parents that says thank you like none other can, a gift that will be displayed in their home and will become tomorrow's heirloom. As an alternative to house portraits, many future brides and grooms order custom created paintings with the subjects placed in various settings; a portrait of the family or wedding party in front of the church, or in front of their house, or at the wedding reception, and have been thrilled with the responses from their recipients.
Recently Janet has broadened her artistic interests to painting human portraits again, capturing each person's personal fantasy in an engaging watercolor and mixed media painting. New, too, are Janet's distinctive bridal portraits that are hand painted in contemporary realism style (with a hint of fashion illustration. In contrast to classical portraits, painted as the artist sees her subject, these "Aspire" portraits are how the bride wants to see herself . Aspire Porrtaits and portraits of the bride have been very favorably received. A unique and special gift to the bride from her husband, her bridesmaids , or just to herself.
See ordering for "Aspire" pricing.
"When the gift just has to be so very perfect, the gift of art is always so right."



The photo of the bride is to the left

Below is the finished portrait





---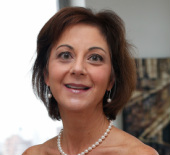 Photo of the bride above and finished portrait below from the photo of the bride in her gown
bride's photo by Shana Schnur Photography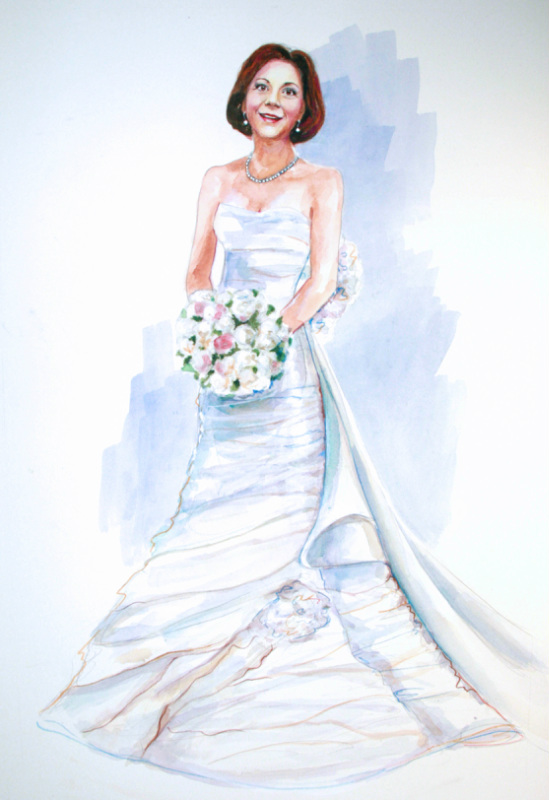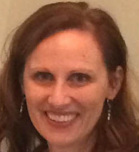 (left) the photo of the bride
(below) the finished bridal portrait

---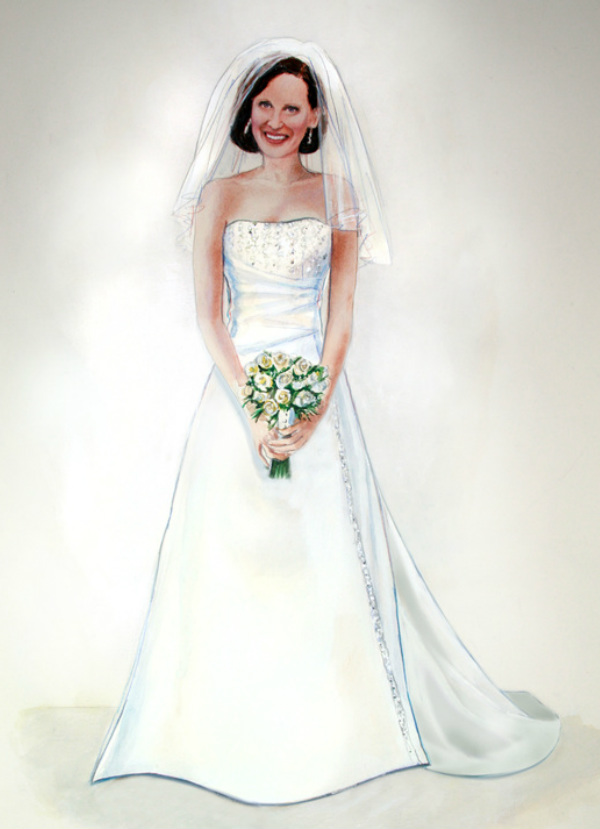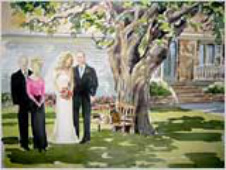 A bride and groom with the bride's parents
---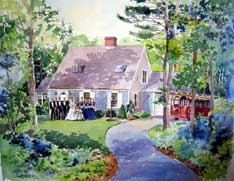 A wedding party in front of the bride's house. Note the trolley parked in the driveway.
---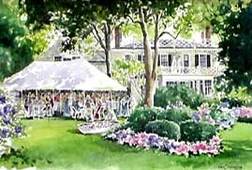 A wedding reception at the bride's house
---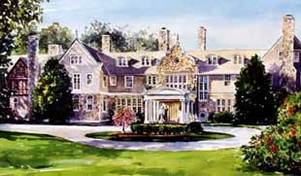 Blithewold, Bristol, Rhode Island where the wedding reception was held. The bride and groom are standing on the front steps.

---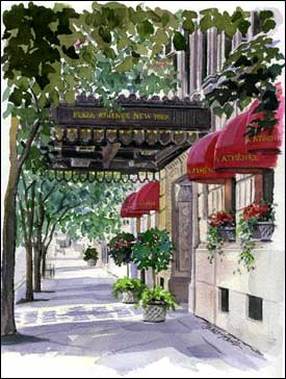 "SAVE THE DATE " CARDS

A novel way to remind your invited guests to save the date before you send your formal invitations is to send a postcard with a reproduction of a painting of the church where you will be married or where the reception will be held. The painting can then be framed and hung on your wall as a memento of your glorious occasion.

To the left is a painting of the Hotel Athenee in New York where a wedding reception was held. The painting was reproduced as postcards and mailed as "Save the Date" cards.


---